VISION
YOUR DESTINATION

FASTER
The road to success is always under construction, so fly there.
BMK MANAGEMENT CONSULTANTS
PURPOSE DRIVEN - PROJECT BASED - GOAL FOCUSED
Accellerate growth, drive profit with the MSP experts
1. Business Performance Assessment




We will conduct a comprehensive assessment to establish a baseline and assist in developing a personalized plan to achieve your goals.



2. Master Project Plan




We will develop a MPP or Master Project Plan that will seamlessly guide you from onboarding through ongoing support.



3. Grow




With a dedicated team focused on increasing enterprise value, your growth will be significantly amplified and more financially rewarding than ever before.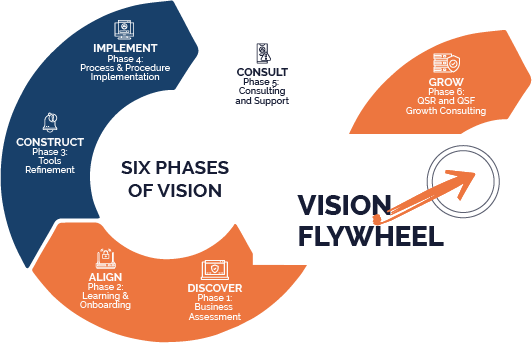 A TEAM OF EXPERTS


YOUR VISION TEAM

Each client is assigned a dedicated BMK team consisting of a Management, Sales, APP, and a Finance Consultant.
A SYSTEM FOR SUCCESS


YOUR VISION PLAN

Your Vision team will work on a dedicated master plan for you, ensuring you achieve the goals and outcomes you deserve.
1. DISCOVER
We thoroughly analyze every aspect of your business, diving deep into the details. By creating a baseline and comparing it against best practices, we gain a better understanding of your unique needs.
4. IMPLEMENT
When people, processes, and performance come together, it's the perfect opportunity to adopt a more effective approach to managing your business. At this point, we initiate a comprehensive transformation from within, fostering a culture of excellence and success.
2. ALIGN
Collaborating with you to seamlessly onboard your systems to best practices and optimization. We understand the purpose behind every business and prioritize achieving the necessary results.
5. CONSULT
Your business has undergone significant growth and is now thriving more than ever. Our ongoing support and consulting services are here to ensure that you stay on the right path and address any remaining areas of improvement.
3. CONSTRUCT
Refining and optimizing your tools is an essential aspect of building an efficient and profitable organization. With the guidance of your MPP, we will ensure operational excellence.
6. GROW
As your business continues to grow and success is on the horizon, it's important to consider what lies ahead. Your enterprise value is steadily increasing, and your strategic approach is unlocking the potential to turn your dreams into reality.
Vision Program:(Monthly)
Vision monthly contract includes:
- Business Performance Assessment
- Master Project Plan
- Onboarding
- Quaterly Reviews
Resources: (Hourly)
Tap into your team anytime hourly:
- Access unique skills of your entire team
- Use as much or as little as you want
- You control the when and what
- From get it done to strategic advice
$250/MO
Includes Quarterly Review
CONSULTING AND SUPPORT
$250/HR
For Consulting
PROJECT WORK
$250/HR
For Consulting
$250/MO
For Access to Scripts
Why Vision?
A team of expert consultants, a methodical plan to succeed, and support for all your applications - the real question is "Why Not?"
Is it a big contract?
No, it's only $250/mo to be in the BMK Vision program.
How long is the agreement?
We ask you to commit for 1 year to see the results.
How much does it cost?
The Vision program cost $250/mo, then you pay for what time you use after that, as much or as little as you want.
How do I manage my Vision?
We'll have Quarterly Service and Financial Reviews to assess and make necessary adjustments. Your Vision Master Plan will serve as your daily guide as we collaborate toward achieving your goals.
Why should I trust BMK?
Don't take our word... Ask around first! After over 20 years in the industry, we have made a name of excellence for ourselves and our clients.
What expertise do you have?
All Vision members get access to Management, Sales, Application, and Finance Consultants wrapped in a Master Plan to keep on track.
What Applications (Tools) do you support?
We support the entire ConnectWise stack and most third-party tools such as MSP Bots, Bright Gauge, Rewst, Etc.
What exactly do I get with Vision?
You get a team of experts and a custom-designed Master Plan that guides you on your way, you can DIY or ask for help at any step.
How long does it take?
It's a journey, not a destination. But most see immediate results and we will be there with you every step of the way as you grow.
Should I wait until I am less busy?
We got you. Join Vision now and do what fits you today. You can call for simple support one day, then tackle advanced growth obstacles the next. You're always in control.
GET VISION TODAY


FOR A CLEAR FUTURE TOMORROW